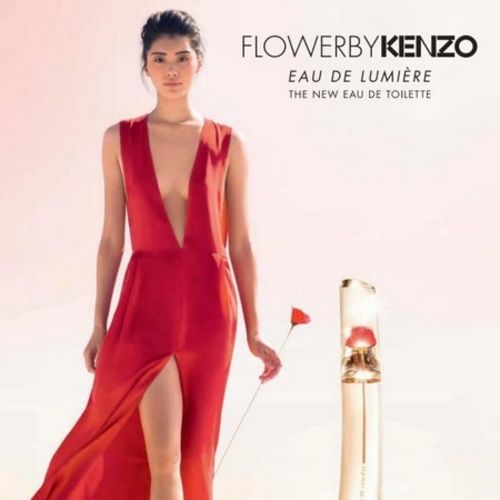 If Kenzo caused a lot of talk in 2016 with the release of its Kenzo World fragrance and its crazy advertising, the atmosphere is quite different this time! Indeed, Kenzo has just presented its brand new floral fragrance called Flower By Kenzo Eau de Lumière. Coming from the great family of the brand's undisputed bestseller, this one uses Kenzo's emblem: the poppy. As always, the atmosphere of this new advertisement is like its juice, full of poetry, freshness and luminosity. So, let's take a closer look at the making of this commercial and the casting of Kenzo.
Ming Xi as Kenzo muse
To interpret the role of the woman Flower By Kenzo Eau de Lumière, the Kenzo house has chosen to call on the same muse as before. In addition, this is the Chinese model Ming Xi. She studied fashion in Shanghai and quickly got noticed. In fact, she placed third in the Elite Model Mode competition in 2009. This allowed her to be recruited by the New York agency Ford Model Management. From then on, Ming Xi went on to contract with the biggest brands such as Givenchy, Dior, John Galliano, Lanvin, Burberry or Louis-Vuitton to name a few. Today, Ming Xi is China's most famous model. This one is absolutely bewitching and brings here a crazy charm.
Patrick Guedj, at the helm of this new advertisement
Once again, the advertising for Flower By Kenzo Eau de Lumière was fully coordinated by Patrick Guedj. Kenzo's artistic director, he is a jack of all trades. Both director, photographer and writer, he constantly draws his inspiration from his travels. Besides, maybe that's why he set his sights on Ming Xi. He says he enjoys giving free rein to his multicultural and bohemian ideal. "I'm always looking for magic," he said.
The spring and floral atmosphere of Flower By Kenzo Eau de Lumière
More than ever, the house of Kenzo seems to have bet everything on the floral aspect of this perfume. Moreover, it is precisely on the vision of a poppy held by Ming Xi that this new advertisement opens. This one goes perfectly with the very low cut red dress of Kenzo's muse. The latter advances on a roof strewn with poppies. Therefore, this flower seems to grow more than ever where we least expect it. Multiple petals then rise in the sky, contrasting with the azure blue color of their dazzling red. Then, after a close-up portrait of Ming Xi, the shot cuts out and takes us directly to the heart of a salt desert. There, like a mirage, stand the three oversized bottles of Flower By Kenzo Eau de Lumière. From then on, this advertisement becomes fascinating in poetry.