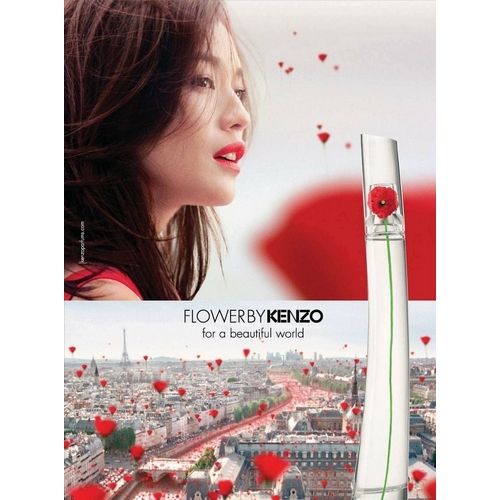 Flower is a fragrance that marks the end of a cycle for the house of Kenzo, as for all of us. Indeed, this will be the last perfume of the house of the first millennium. Flower was released at the dawn of the year 2000. Also, it is a symbol of modernity and renewal. This particularly avant-garde fragrance at the time of its release has not aged a bit and still fits perfectly into the spirit of the times. It brings a touch of spring to everyday life and captivates us with its scent based on a flower that has no odor.
Flower, the scent of an odorless flower
The Flower perfume by Kenzo derives from a particularly novel idea. Indeed, the house Kenzo imagined an olfactory creation based on the theme of the poppy. Although this flower fascinates most people, we all agree on one point: it is a plant that is odorless. Once we start from this premise, we wonder what this bestseller in perfumery can smell like. In fact, it is more of an olfactory representation of what one imagines at the sight of a poppy. Its creator, Alberto Morillas, has chosen to work with powdery notes and to modernize them. Flower opens with a spicy note of pink berries. However, it retains freshness and femininity through rose and hedione. Likewise, he associates carnations with white musk. Thus, its delicacy appears to us more impertinent. This perfume juxtaposes the touch of madness of the poppy associated with its lightness. Then, the Bulgarian rose, the Parma violet, and the hawthorn reinforce its sensuality. Finally, it all ends with a somewhat vanilla scent.
The very creative universe imagined by Kenzo
On the bottle side, Kenzo called on the famous Serge Mansau. The latter showed a lot of originality. He did not imagine one but three bottles. He then drew, on his slender glass tubes, poppies at different stages of their hatching. These cases adopt a very elongated shape, as if ready to soar towards the sky. The rendering is particularly creative. So much so that, 15 years after their appearance, these bottles still appear to be just as charming. Also, when the perfume was released, they were not the only ones to have marked the spirits. Indeed, Kenzo installed huge beds of poppies in some of the largest cities in the world such as Moscow, Paris, Toulouse, Vienna, Hong Kong … Thus, 150,000 poppies were planted on the forecourt of the Center Pompidou and some 200,000 on Red Square! This original creation was particularly noticed and very appreciated by the population, who were able to enjoy a sprig of greenery in the heart of the urban space. With Flower, Kenzo takes us into his world, halfway between dream and reality. It encourages a sweet reverie, why not in the heart of a sunny field, filled with poppies.