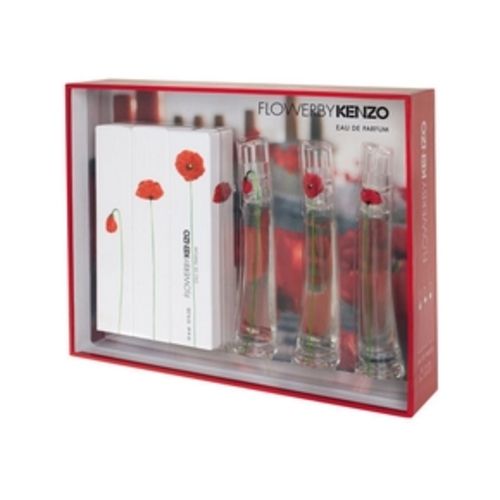 Miniature Flower Box by Kenzo
Buy the Flower by Kenzo Gift Box at a low price on Fragrenza Perfumes.
The Kenzo Flower Miniatures Box contains:
3 Miniatures Flower by Kenzo 4 ml

In the city, springs a red flower. Simple and beautiful. Fragile and strong. Unpredictable, the poppy grows where it is not expected. On concrete, asphalt, between two cobblestones, its red petals exude their poetic power. The poppy has no smell. Kenzo created his perfume.
In a technological and urban world, the flower is the essential link between nature.
Odorless in essence, Kenzo invented the scent of the poppy. A powdery floral signature, unique and timeless.
The blooming of a poppy in the city: the power of a singular flower, strong, pure and sensual.
Kenzo created the scent of the poppy, odorless in essence: vibrant flowers, sensual comfort and pure freshness.
3 glass constructions soar towards the sky. Pure and transparent lines.
The bottles, oriented differently, retrace the 3 stages of the poppy hatching.
Women's Perfumes
Olfactory Family: Oriental – Floral
Top Notes: Hawthorn, Cassie Flower.
Heart Notes: Rose, Jasmine, Violet.
Base notes: Opoponax, Vanilla, White Musk.
Find it at the best price at our perfume partner: Flower by Kenzo – Fragrenza Perfumes as well as all Kenzo brand products .