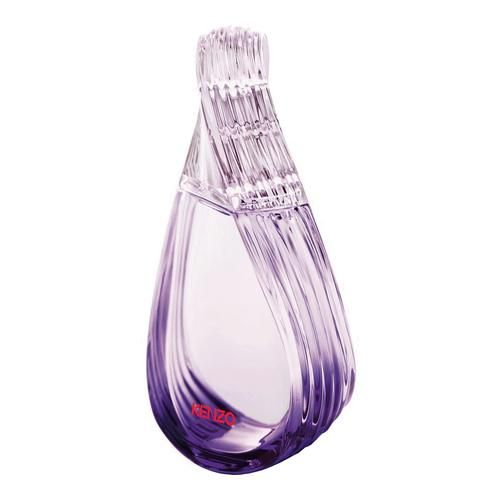 Madly or the colorful and joyful fragrance from the house of Kenzo
After offering us a marvelous poppy, the Kenzo perfume house has revived the olfactory jewel created in 2008 by the hands of Aurélien Guichard and Ron Arad in a fragrant flight joyfully named Madly.
Indeed the pretty Madly had already been released a few years ago for an informed clientele of connoisseurs of Kenzo perfumes. From the 2008, unnamed limited edition, Kenzo gave birth to a scented jewel in 2011, Madly.
The pretty Madly takes up again with the colorful and joyful symphonies of the fashion house Kenzo, in particular with the symbolic multicolored spangles of the brand. Madly's universe could be summed up in a few words: "I run, I fly, I live"! As a result, the advertising campaign will inevitably be imbued with this spring madness and the metaphorical poetry so dear to Kenzo.
This time the heroine of Madly does not grow pretty flowers on the buildings but she will give birth to farandoles of butterflies! The young ambassador chosen for Madly, Amber Anderson, will be led by Patrick Guedj, emblematic director of the Kenzo artistic branch. The universe of Madly's film is bucolic and colorful, her muse is sparkling and joyful, even a bit sensual.
Once again, Kenzo makes us dream of beautiful getaways by undressing the urban woman and weary of the city to better color her with butterflies Madly … Just like Flower, Madly wants to be the dream perfume that will make us escape our sad reality.
A sensual flight of butterflies landed on Madly de Kenzo
As we have already noted, Madly's precious bottle was first born in 2008. Worked by artist Ron Arad, the very first bottle was conceived as a work that would house the precious secret composition of Aurélien Guichard. The artist, who was carrying out the design of a perfume bottle for the first time, produced a wing intended to be used with a thumb, a new way to perfume oneself in short. This unnamed perfume was also exhibited at the Center Pompidou alongside many other works by Ron Arad.
For Madly, this first work was reworked to recreate the butterfly wing in a colored glass with purple reflections. As for Madly's case, it will be magnified with a multicolored flight of precious insects reminding us of the dreamlike universe of Jean-Paul Goude's advertising film.
As for the composition of this Madly, it is described as "florientale". Spicy with these notes of pink berries and pepper, Madly offers itself like a bright sun of orange blossom, rose and heliotrope to better let itself melt in sweet sensualities of vanilla, cedar and musk.
In a flight of butterflies, Kenzo opens the doors to his wonderful world where women are free, at last!
"Free,
I forget the reason and the ordinary
I dare
I am madly Kenzo!" »Kenzo for Madly.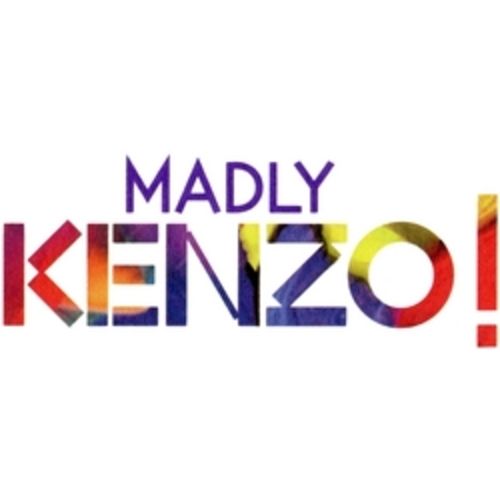 The crazy Kenzo perfume!
I run, I fly, I live… Free. I forget the reason and the ordinary … I dare. I am madly Kenzo !
A miniature 4 ml AVAILABLE now on Fragrenza Perfumes for the purchase of the 80 ml Madly Kenzo Spray !
Intended for a woman: madly free, she lives, she dares. Unpredictable, happy.
Perfume – Madly Kenzo :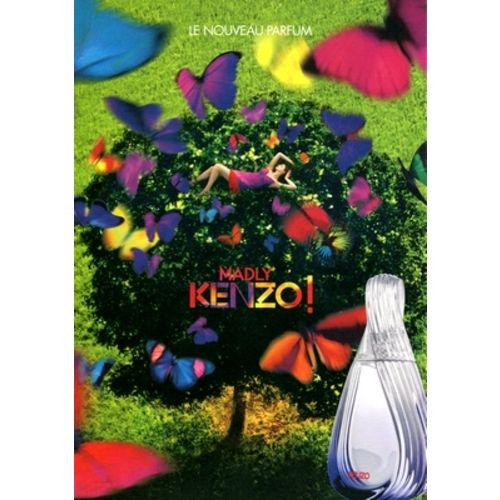 A perfume with a real personality. Bold. Marking. Recognizable among all. An ultra-sensual fragrance.
A colorful head comprising Orange Blossom and Pink Berries. A floral heart is expressed through notes of Heliotrope Flower, Rose and Frankincense. A sensual base closes this fragrance with notes of Vanilla, Cedar and Musk.
A fragrance created by Aurélien GUICHARD (Givaudan).
Madly Kenzo – Bottle and Case:
The Madly Kenzo Bottle! :

A real design object, a stylized butterfly wing created by Ron ARAD. Available in August 2011 in Eau de Parfum Spray 30 ml, 50 ml and 80 ml.

L'Etui Madly Kenzo ! :

L'Etui Follement Kenzo. Choc de couleurs, vives, texturées, comme un imprimé. Un symbole fort : une envolée de papillons qui exprime la liberté, l'ivresse du bonheur.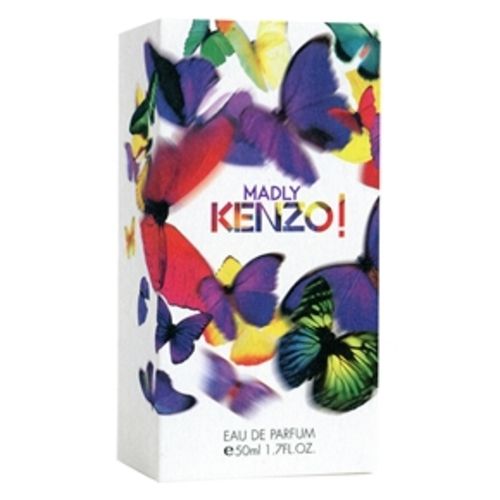 Madly Kenzo est un parfum audacieux, qui évoque la liberté. Il procure gaieté et bonne humeur à celle qui le porte. Une fragrance ultra-sensuel Madly Kenzo !
L'égérie de Madly Kenzo sera Amber ANDERSON une anglaise de 18 ans. Kenzo a repris l'un des codes cher à Kenzo TAKADA le créateur avec le papillon.
Découvrez aussi les parfum pour Homme Kenzo.
Parfum Femme
Famille Olfactive : Floral
Notes de Tête : Fleur d'Oranger, Baies Roses.
Notes de Coeur : Fleur d'Heliotrope, Rose, Encens.
Notes de Fond : Vanille, Cèdre, Musc.
Retrouvez le au meilleur prix chez notre partenaire parfums : Madly Kenzo ! – Fragrenza Perfumes ainsi que tous les produits de la brand Kenzo.
Plus d'information sur blog.mes-parfums.com