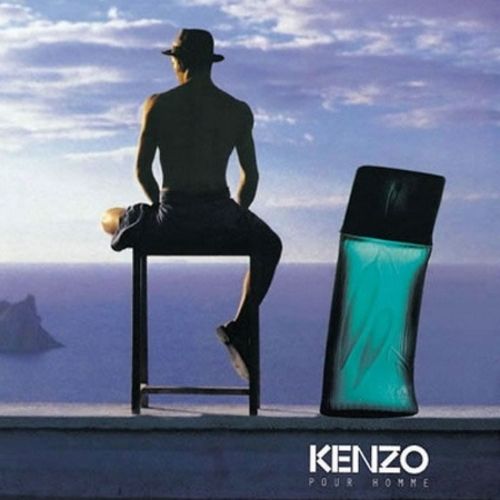 After the pretty flowered This smells beautiful, Kenzo decided to embark on men's perfumery in 1991 with the iodized and vegetal Kenzo pour Homme. An audacity of land and sea signed Christian Mathieu while in the 90s feminine perfumes wanted to be opulent and very classic masculine perfumes. Despite this break in style, Kenzo pour Homme exudes natural and raw scents that will never cease to seduce these gentlemen, to such an extent that today the "water bamboo" perfume is considered a great classic of the brand. perfumery.
The first Kenzo perfume escapes trends …
Kenzo Takada has made a name for himself in the fashion world thanks to his refined creations and his inimitable style, mixing for the best the beauties of the West and Asia. Among the first Japanese couturiers to have made themselves known throughout the world, Kenzo had already chosen to release a first perfume in the flowery colors of a very Asian jasmine, It smells beautiful.
With Kenzo pour Homme, the thousand-talented couturier goes further by daring to offer Asian bamboo scents mixed with aquatic beauties still unheard of in perfumery. A daring for the time, much more marked by "Poison" perfumes with a remarkable presence than by nuanced and refined fragrances.
However, Kenzo pour Homme will be one of the first best-sellers of this new "natural" trend in perfumery . A trend that will also influence advertising campaigns and visuals in order to always offer the pure and natural universe in line with this beautiful Kenzo for Men. Moreover, 25 years after the first release of the Kenzo pour Homme eau de toilette, Kenzo chose to offer an eau de parfum presented with a film of absolute beauty, exactly as he had been able to do in 1991 for the first opus. . Kenzo pour Homme is like the bamboo that composes it, it bends but never breaks …
Kenzo Homme or the call of the sea
The magnificent bamboo-shaped bottle by Kenzo pour Homme is a work of glass signed by the great bottle designer Serge Mansau. The blue bamboo engraved with this pretty Asian plant would be like the ideal compromise between the beauty of the land and that of the sea. In addition, very masculine, the Kenzo pour Homme bottle was very appreciated by these gentlemen for its sober originality.
Kenzo pour Homme opens with a citrusy opening of lemon and bergamot which will be quickly illuminated by an aromatic note of clary sage. Rosewood brings its tender sweetness to this dazzling flight. Then, in the heart, the calone breeze carries us away in its impetuous flow, sweeping our curious noses with the powers of caraway, juniper berries and nutmeg. The lily of the valley adds its flowery and spring freshness to this sea air. Finally, the tones of cedar, vetiver and fir balsam are coated with pretty white musks to envelop us in woody sweetness.
"A designer fragrance recognizable among all, a pioneering, unique and timeless fragrance, KENZO HOMME is a classic. Built around water and blue bamboo, it is inspired by the whole world and brings distant horizons closer. »Kenzo for Kenzo for Men.