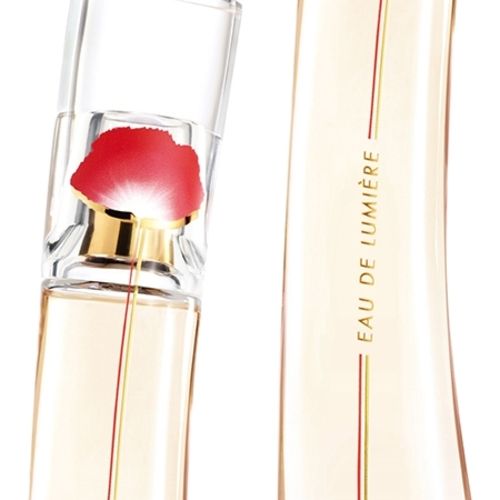 Since 2000, an emblematic moment bringing Kenzo into a new millennium, the brand has never stopped delivering the best of the poppy. Kenzo has chosen to make this flower his emblem, capturing through it an absolutely dazzling floral light. So, as if to pay tribute to the solar aura of this unexpected flower in perfumery, Kenzo has chosen to transform its perfume into a new Flower By Kenzo Eau de Lumière . Focus on the recipe for this new composition.
Flower By Kenzo Eau de Lumière, a fragrance composed by two perfumers
To create the new fragrance, Kenzo called on two renowned perfumers. The first of them is world famous. Flower By Kenzo Eau de Lumière is signed by the iconic Alberto Morillas. Completely self-taught, he has taken on an out of the ordinary course. A true artist, he was fascinated by creation in general since his earliest childhood. This prompted him to study the fine arts. However, it was not until later that he learned to master the universe of scents. Ambitious character, Alberto Morillas succeeded in reaching the highest peak of his career by obtaining, in 2003, the prestigious François Coty prize for best perfumer. His unusual artistic sense makes him one of the most famous master perfumers in the current perfume industry. Here, he surrounded himself with the help of Amandine Marie. Coming from a family of perfumers, she is just as passionate as her collaborator and also seems endowed with an innate talent for her profession. A reference figure in the world of aromas, she says she feeds on her encounters. Thus, it is a real happiness for her to have been able to collaborate with Alberto Morillas, an association that has allowed her to give the best of herself through this new madly luminous juice.
The luminosity of the poppy bottled by Kenzo
Flower By Kenzo Eau de Lumière is a fragrance that focuses on seduction and femininity. Thus, he seems to bring together all the most bewitching facets of women. Fitting perfectly into the world of the Kenzo house, Flower By Kenzo Eau de Lumière is a juice filled with poetry. It contains ingredients from the best quality. These are then assembled in deep harmony to deliver a fragrance of exceptional quality. As if to echo its name synonymous with luminosity, Flower By Kenzo Eau de Lumière has opted for a fresh, lively and airy start. This highlights the airy, Mediterranean scent of Calabrian bergamot. Its citrus power then gives way to a more floral heart. This contains Bulgarian rose and jasmine, two ingredients widely used in women's perfumery. Finally, Flower By Kenzo Eau de Lumière ends with more elegance and sensuality. He finally lets a soothing scent of white musk float behind him.