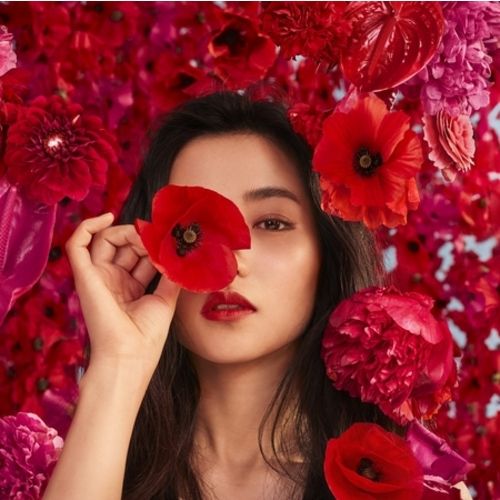 Kenzo's iconic poppy, back in the ad for Flower by Kenzo Poppy Bouquet
It was in 2000 that Kenzo decided to tell us about the power of a unique flower, at the same time very feminine, sensual and strong: that of the poppy. Simple and fragile, this rustic plant immediately became the emblem of the brand. Twenty years after its creation, its success continues, so much so that Kenzo has decided to celebrate its anniversary by reinterpreting its scent, in a new composition. Kenzo presents its latest creation: Flower by Kenzo Poppy Bouquet , already sublimated by an advertising beaming with happiness.
Kenzo reuses an advertisement well known to the general public
In fact, the television commercial that accompanies the Flower by Kenzo Poppy Bouquet perfume is not really new. To highlight its unique scent, Kenzo has chosen to reuse its 2018 campaign, featuring Korean model Kim Tae Ri. Accompanied by the title "What a Way to Win a War" by Tom McRae, this advertisement is played in the streets of San Francisco. It all begins with the vision of an enormous sphere of poppies suspended in the air. Then, this floral bubble explodes and floods the streets of the city, as if to deliver a message of happiness and make the world more beautiful. Produced by the American company High Noon, this campaign brought together a technical team from Los Angeles, including in its workforce the famous production designer Andrew R. Jones, known for having contributed to the film Avatar,
Kim Tae Ri, model and Kenzo muse
Still little known to the general public a few years ago, Kim Tae Ri has established himself as one of the rising figures of cinema and modeling. Revealed on the big screen in 2016, in the sulphurous thriller "Mademoiselle" by Park Chan Wook, Kim Tae Ri was then shown in the film "Mr Sunshine" in 2018. Spotted by Patrick Guedj, director of the Kenzo commercials, she s Her first role as a muse was offered the same year, taking over from Taiwanese model Shu Qi, Japanese top Lika Minamoto and Chinese Ming Xi, the three previous Kenzo muses.
Flower by Kenzo Poppy Bouquet, a wave of happiness
As Kim Tae Ri's radiant smile suggests in this ad, Flower by Kenzo Poppy Bouquet is a fragrance that immediately balms the heart. He shines first by the vision of his bottle. Its slender glass tube is tinted with a new pink color, which further reinforces its optimism and femininity. On the scent side, Flower by Kenzo Poppy Bouquet reveals all the generosity of the poppy. It all starts with the freshness of pear, quickly associated with a floral blend of rose and gardenia. The base of Flower by Kenzo Poppy Bouquet, meanwhile, warms up little by little, until it rests on a sensual base of almond wood.