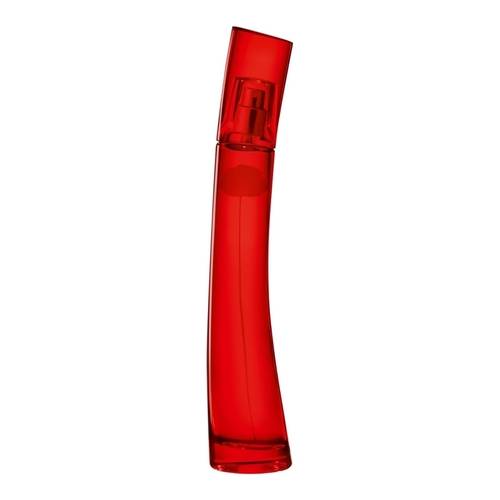 Flower By Kenzo Red Edition, a new concentrate of energy
The poppy is a flower that has no odor. However, Kenzo took up the crazy bet to make a perfume of it. Like this plant, Flower By Kenzo celebrates women as a singular creature, strong, pure and sensual. Flower By Kenzo has fascinated us with its positive and colorful energy since its release in 2000. It is one of the best sellers of women's perfumes . Year after year, he also reveals new faces to us, multiplying his sources of inspiration and giving birth to a new poppy in always very different landscapes. Today, Kenzo has bet on a more summer and solar scent. His latest creation is called Flower By Kenzo Red Edition.
Flower By Kenzo, the story of a poppy that became a perfume
Before being a perfume, Flower By Kenzo is above all a poppy that reinvents itself year after year. This unusual feminine fragrance tells us about the power of a unique and fascinating flower. The poppy is both strong and delicate. Completely unpredictable, he has the gift of appearing where we do not expect him. It sometimes takes root between two cobblestones and brings a breath of gaiety to everyday life, flooding the urban universe with its pretty red color. This is all that inspired the Kenzo house in 2000.
What's more, over time, Flower By Kenzo has revealed many faces to us . It has thus become in turn Flower by Kenzo Le Perfume, Flower by Kenzo Oriental, Flower by Kenzo Winter Flowers, Flower by Kenzo Essentielle, Flower by Kenzo La Cologne, Flower Tag, Flower by Kenzo L'Eau Originelle, Flower by Kenzo L 'Elixir, Flower by Kenzo Eau Florale or more recently Flower by Kenzo Eau de Lumière. Even today, it is transformed for our greatest pleasure. Its flamboyant red color never seems to have been so present and Flower By Kenzo Red Edition intends to flood the world with its solar aura.
The new solar breath of Flower By Kenzo Red Edition
Flower By Kenzo Red Edition is a perfume specially designed for the summer. It deploys its red filter and transforms the city into a sparkling and more attractive place than ever. He celebrates the summer period and the first rays of the sun with boundless energy. From then on, he seems to transform the world to make it more beautiful.
This radiant eau de toilette dares unexpected scent associations. Flower By Kenzo Red Edition starts off with the tangy freshness of blood orange. Then, her heart brings together red frangipani flower and fleur de sel. The result is a poetic and gourmet femininity, enriched with a new salinity. Finally, Flower By Kenzo Red Edition ends with a purer and more limpid base of white musk. The set is presented to us in a bottle with an identical silhouette to that of the very first Flower By Kenzo. On the other hand, this cylindrical tube rising towards the sky and slightly curved now takes on a more flamboyant red color than ever. It becomes even more feminine and resplendent than before.