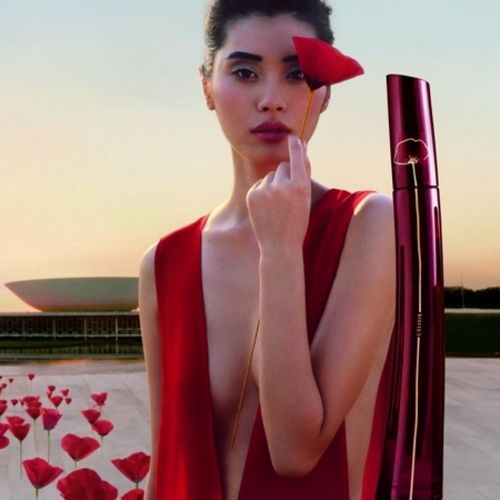 The thousand and one powers of Kenzo's imaginary poppy
With the blossoming of the new century, Kenzo gave birth to a new flower, a soft and pure poppy which flies away from the grayness of the cities to offer us dreams, Flower . Since then, the perfume has produced a number of small "buds" in the form of variations that are offered each spring as if to amaze us more, like this magical and gourmet Flower by Kenzo l'Elixir. An Elixir like a magic potion all dressed in red that envelops us in fruity delicacies as much as in floral magic.
A poetic universe and a powerful flower for Flower by Kenzo l'Elixir
After creating the magnificent Flower in 2000, Alberto Morillas has never ceased to draw his inspiration from this dream poppy to make variations of it. In 2015 there will be no less than three flankers who, each with their own personality, will be released almost simultaneously: Flower by Kenzo Eau Originelle, Flower by Kenzo Légère and Flower by Kenzo l'Elixir .
For this precious and gourmet Flower by Kenzo the Elixir Alberto Morillas was inspired by a visit to a field of Bulgarian roses to create a perfume that will match the beauty of the beautiful while bringing out its richness and sensuality. with a sweet orange blossom and gourmet raspberries.
The designer says: "Growing roses is a rare family tradition," he says. Everything inspired me: the gesture of the pickers, picking up flowers corolla by corolla, bags filled with flowers and fields as far as the eye can see. I remember this flowered valley surrounded by mountains, like an endless expanse of roses. ".
As for the advertising campaign of this Gourmet Flower, it is of course not different from Kenzo's usual poetry. Patrick Guedj once again asked the sublime Asian muse Ming Xi to appear in a rare dreamlike creation where flowers grow under his feet, as if her charm had bewitched the hard and cold concrete of the city.
The poppy is once again a symbol of renewal and revolt. "It is a strong flower, which inscribes itself in contrast and makes its way without romantic qualms through the concrete of the city. Kenzo reminded us for Flower.
Flower by Kenzo l'Elixir was born in a field of Bulgarian roses!
Serge Mansau had created the flower with the slender glass stem of Flower, naturally the beautiful Flower by Kenzo l'Elixir takes up this mythical bottle. However, the glass is tinted for this opus with a pretty red color and a poppy engraved with gold throughout its high stature, the bottle is almost transformed into a jewel bottle.
Flower by Kenzo l'Elixir opens with a sparkling tangerine matched with joyful pink berries and a hint of spice. The raspberry brings its fruity and sweet sweetness to these dynamic top notes. At the heart, Bulgarian rose essence blends with orange blossom absolute to intoxicate us with their sweet scents. The depths of bourbon vanilla absolute and praline offer an ultra sensual trail to the flower of our dreams.
" Flower by Kenzo celebrates this femininity and creates its first Elixir. A gourmet floral unfolding a deep, unique, unforgettable trail. »Kenzo for Flower by Kenzo l'Elixir.