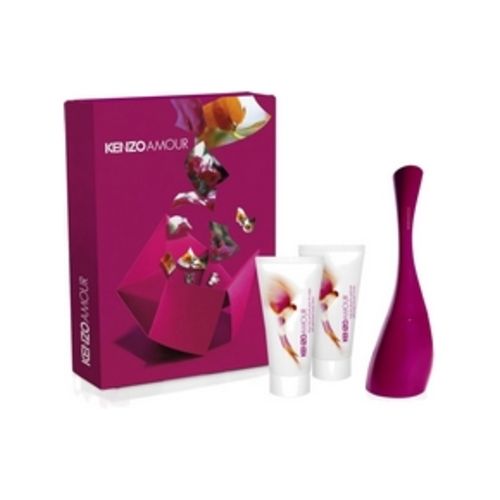 The Kenzo Amour Mothers Day set includes 50ml Eau de Parfum Spray with 50ml Body Lotion and 50ml Kenzo Amour Shower Gel as a GIFT.
Kenzo Love Box
Buy the Kenzo Amour Box at a low price on Fragrenza Perfumes.
Sensual scent, sweet and happy scent, olfactory evocation of Asian travels. Souvenirs from India, Indonesia, Japan, Brimanie, Thailand… pretty places vibrant with colors and scent.
A journey of love … A sensual, sweet, happy fragrance, inspired by the sensations of a journey of love. A musky woody floral composed like a travel diary from olfactory memories of travels in Asia …
There are flowers, cherry and frangipani, woods too, incense that comes from here, thanaka, which comes from elsewhere, rice, white tea, and vanilla, for the sweetness …
Women's Perfumes
Olfactory Family: Floral – Woody Musk
Head Notes: Frangipani Flower.
Heart Notes: Cherry Blossom, White Tea, Frankincense.
Base notes: Thanaka wood, Rice, Vanilla.
Find it at the best price at our perfume partner: Kenzo Amour – Fragrenza Perfumes as well as all Kenzo perfumes .