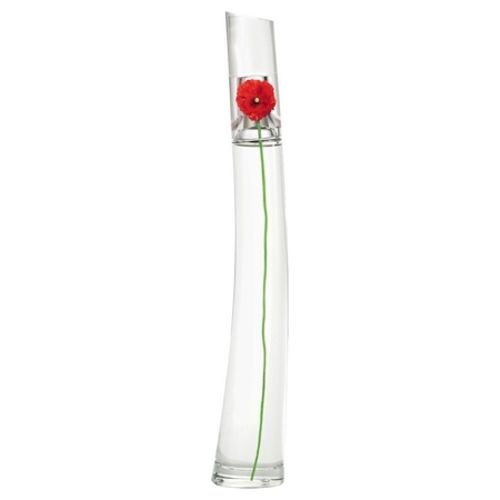 Flower By Kenzo, the fragrant poetry of a unique flower
Women's perfumery often places flowers at the heart of its compositions. Nevertheless, it is very often the same plants that come forward: rose, jasmine, tuberose … Kenzo has therefore decided to take a different look at femininity. Its Flower By Kenzo fragrance is more exactly inspired by the poppy. What a funny idea when you know that it is a flower that does not have an odor! Never mind, Kenzo took up the challenge of giving him one!
Flower By Kenzo plunges us into an unreal world, and imagine the scent that this unpredictable and radiant plant could have. Indeed, the poppy has the gift of appearing where one does not expect it, sometimes between two paving stones, in the middle of the urban universe. The message is clear, Flower By Kenzo intends to bring a touch of poetry and enchantment in your daily life.
The smell of the poppy by Flower By Kenzo
Flower By Kenzo decided that their poppy would have a floral and powdery scent. Its fragrance is as pure as it is unexpected. All in emotion, it displays an astonishing modernity which has endured now for more than 17 years. Its harmony is articulated around three chords. The first is a colorful and generous bouquet that blooms around a Bulgarian rose, a powdery violet and a wilder hawthorn. The second is smoother and more enveloping. It combines the suave warmth of vanilla with the purity of white musk and opoponax. Finally, Flower By Kenzo ends with a fresher and more biting breath. On the aesthetic side, it comes in a slender and slightly curved glass tube, simply decorated with a pretty poppy on its walls.
In a technological and urban world, the flower is the essential link between nature.
The blooming of a poppy in the city: the power of a singular flower, strong, pure and sensual.
Kenzo created the scent of the poppy, odorless in essence: vibrant flowers, sensual comfort and pure freshness.
3 glass constructions soar towards the sky. Pure and transparent lines.
The bottles, oriented differently, retrace the 3 stages of the poppy hatching.
Women's Perfumes
Olfactory Family: Oriental – Floral
Top Notes: Hawthorn, Cassie Flower.
Heart Notes: Rose, Jasmine, Violet.
Base notes: Opoponax, Vanilla, White Musk.
Find it at the best price at our perfume partner: Flower by Kenzo – Fragrenza Perfumes as well as all Kenzo brand products .