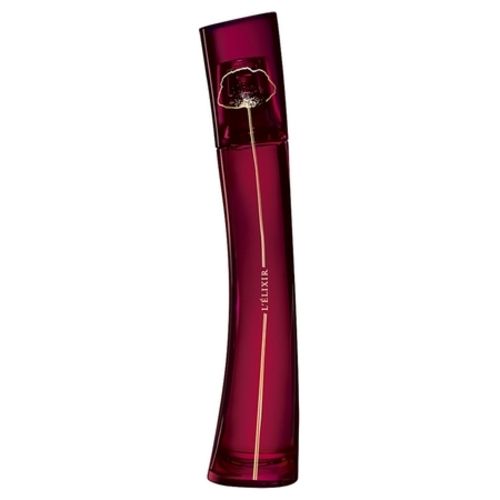 Flower By Kenzo L'Elixir, a new scented poppy
By creating the Flower By Kenzo perfume in 2000, the Kenzo house had created a surprise. Indeed, women's perfumery usually uses rose, jasmine, church, violet,… But never poppy! And for good reason, this flower has no smell! Far from stopping the Kenzo house, this important notion has increased its creativity tenfold. The brand decided to imagine the scent that this flower could have, both rural and urban.
This is how the poppy took over the Kenzo house never to leave it again. On the strength of this brilliantly taken up bet, the Kenzo brand decided to repeat the experience by notably creating, in 2015, the fragrance Flower By Kenzo L'Elixir. This time, it is a composition with tenfold aromas. Flower By Kenzo L'Elixir is a true floral and feminine symphony that highlights the bewitching power of flowers. Flower By Kenzo L'Elixir creates a kind of enchanted parenthesis in everyday life.
Flower By Kenzo L'Elixir, a gourmet floral fragrance
Flower By Kenzo L'Elixir is a very feminine fragrance, both floral and gourmand. It deploys a unique and unforgettable trail that immediately takes off with a fruity and tangy accord. Flower By Kenzo L'Elixir begins with a combination of mandarins and raspberries. Then, its heart immediately becomes more floral: Bulgarian rose essence is enhanced by the solar and Mediterranean accents of orange blossom absolute. For even more indulgence, Flower By Kenzo L'Elixir is enriched with pralines and bourbon vanilla absolute. This only increases her sensuality.
From then on, Flower By Kenzo L'Elixir becomes an addictive fragrance from which it is almost impossible to come off once you have tasted it!
Let yourself be surprised by this new version of Flower by Kenzo with vibrant colors and an exquisite trail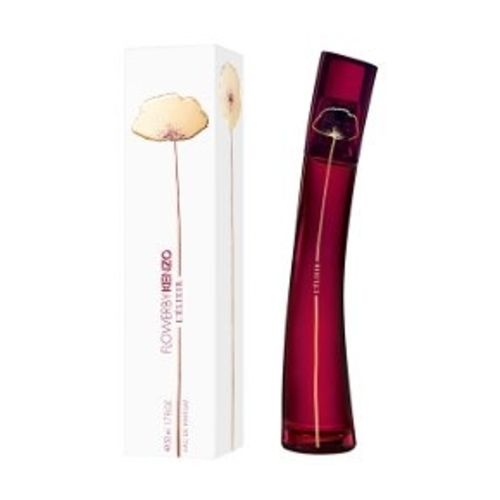 Flower by Kenzo L'Élixir
Buy L'Eau de Parfum Flower by Kenzo L'Élixir at the best price on Fragrenza Perfumes.
Perfume – Flower by Kenzo L'Élixir
Flower by Kenzo L'Élixir offers you a trail with multiple aromas, from the most delicate to the most delicious, a true floral symphony The Flower by Kenzo Elixir reminds you of the power of flowers, wonders of nature, which comfort you, and reminds you of the most beautiful moments of your life.
Flower by Kenzo L'Élixir explores sensuality through notes of raspberry, orange blossom, Bulgarian rose enhanced by bourbon vanilla absolute.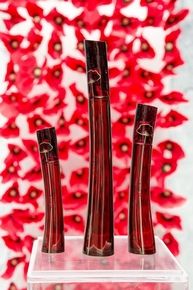 Communication – Flower by Kenzo L'Élixir
For the launch of her new perfume Kenzo has chosen the model Ming Xi who perfectly embodies the Flower by Kenzo woman: determined and confident woman, elegant and sensual, she evolves in an urban environment and the poppies trace her path and give her courage and the strength to move forward, and to rise ever higher.
The Kenzo house draws its inspiration from the photo of Marc Riboud renowned photographer who for more than 50 years silion the world and immortalize moments of life, strong moments, moments of humanity such as the photo of "flower power" or a Woman holds up flower in front of Pentagon guard during anti-Vietnam War protests in 1967.
Bottle – Flower by Kenzo L'Élixir
The Flower by Kenzo bottle with its cylindrical shape is adorned with a burgundy red and a poppy tinted with gold. Between minimalism and elegance, this bottle becomes a real ultra creative jewel.
Olfactory Family: Floral
Top Notes: Orange Blossom, Raspberry, Mandarin
Heart Note: Bulgarian Rose Base
Note: Bourbon Vanilla Absolute, Praline
Find it at the best price at our perfume partner: Flower by Kenzo – Fragrenza Perfumes as well as all Kenzo brand products .